The CIS Cup Final is now officially known as the Davie Cooper Final in memory of the great man who passed away so sadly ten years ago. Whilst DC is a legend who will always be remembered, let's not go over the top on March 20.
As great a player as Davie was for us, this is not his occasion.This will be only the sixth post war cup final in which we have taken part.It has taken a big effort from our players to get us there and, win or lose, this is their day.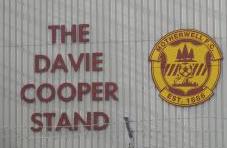 This should not be considered a slight on Cooper by any means – he was a great man and a great player for our club but he is remembered every day at Fir Park.The Cooper Stand, the Cooper Wall, the Cooper suite…when you consider that there is nothing at Fir Park to commemorate John 'Sailor' Hunter or other 'Well giants, Cooper is probably over-represented at our ground.Yes, we should acknowledge the tenth anniversary of his tragic death but there is a routine league match between Motherwell and Rangers a fortnight after the final – both fans can easily join in a minute's silence or whatever at that time.




The image on the ticketsis a nice touch and the percentage of programme money going to charity is also good.But please, let Rangers do whatever they want, they get to enough finals to dedicate one to former players.Sadly, we do not and as such the day should be focused on the men who have done so well to get us to a final.

Davie Cooper will be fondly remembered at Fir Park for all he did but Davie's big day for us was May 18th 1991.


March 20th 2005 should be for Martyn Corrigan, Richie Foran, and the rest of our current squad.
Read more about our CIS 2005 campaign.