Motherwell fans have been spoiled in recent days as the team falls under the media spotlight ahead of the cup final. For a more considered insight into the club the ever informative MFC Podcast has published a 40 minute chat with Stephen Robinson.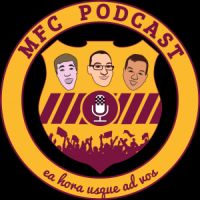 While many of the Scottish football news outlets focus on the sound bites that flowed from Tuesday's media day at Fir Park,
"David Clarkson hopes for Motherwell cup win to remember this time" – The Herald, "Chris Cadden seeks 'legendary' status with Scottish Cup win" – BBC Sport and "Motherwell have 'as much to lose as Celtic' in Cup final" – The Scotsman,
Andy Ross made the best of the opportunity to record an interview with the manager for the podcast – online at mfc1886.com.
Robinson needed only occasional prompts as he recalled the journey that started as assistant with Ian Baraclough and now has him preparing to lead the team out at Hampden for a second time this season.
The impression came over of a man relaxed yet thoroughly prepared. He is confident that his team will show no fear of the big occasion; that they are confident of the job they face.
Much of his comfort stems from the trust he has in his coaching staff and the forward looking attitude that flows through the club.
The players have completed their involvement with the press and, as normal a four day preparation for a Saturday match is now underway.
The podcast presents a rounded view of the manager and gives us a glimpse of the man who followed Baraclough and McGhee into the hot seat. His experience with Northern Ireland at the Euros and at Oldham has shaped him and he will ensure that we give it our best shot on Saturday.
You can listen to the full podcast here – MFC Podcast